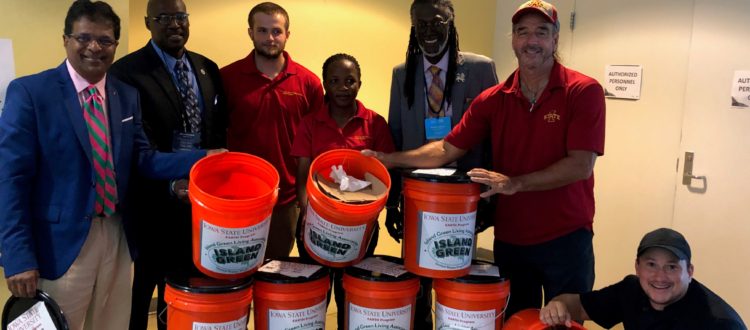 Island Green Partners with Clinton Foundation on Event Composting in Coordination with Iowa State University EARTH Program at Gifft Hill
Island Green Partners with Clinton Foundation on Event Composting in Coordination with Iowa State University EARTH Program at Gifft Hill
Food "Waste" from Clinton's USVI Recovery Event to Enrich Soil
St. Thomas, USVI – June 4, 2019 – It has been a longtime refrain of Island Green Living Association President Harith Wickrema: There is immense potential in turning the territory's usable "waste" into a valuable RESOURCE. With the Clinton Foundation in the USVI for their CGI Action Network on Post-Disaster Recovery on June 3 & 4, organizers reached out to Mark Lichtenstein, Island Green board member, to coordinate composting of food waste with Island Green in partnership with the Iowa State University EARTH Program at Gifft Hill on St. John, which is run by Island Green board member Dr. David Minner. (Download photo: HERE)
"The Clinton Foundation has been a powerful force in assisting the USVI in our recovery. It is fitting that through composting, they are also enriching our soil," said Wickrema. "It sets an excellent example. Nearly 60% of our waste is compostable and close to 20% is recyclable. It is critical that zero waste initiatives such as composting of food waste are expanded in the territory, making us more resilient while combating carbon emissions and climate change." The territory's Debris Management Plan that was designed by the Governor's Recycling Taskforce, at the time headed by Wickrema, identified mulching and composting as necessary solutions.
"Over the last three years, the small scale composting operation at the ISU EARTH Program Gifft Hill School facility has shown great potential. It is now time to take composting to the municipal level," said Minner. "The VI Waste Management Authority and Public Works are two government offices that could make tremendous strides if they stepped up to facilitate reducing landfill waste burden through composting and other measures. The future is asking for composting."
Dr. David Minner's Iowa State University EARTH Program runs a school and community garden that donates fresh garden produce to local food kitchens and completely depends on compost given the poor soil and rocky terrane conditions of St. John. The organic waste from the CIG conference will be combined with spent grain brewers waste from the Tap Room and with vegetable scraps and coffee grounds collected from seven additional St. John restaurants.
Community composting is a key element of Island Green Living's Sustainable Living Center currently being constructed on St. John.
Established in 2004, Island Green Living Association is a registered 501 (c)(3) not for profit organization on St. John dedicated to sustainability throughout the USVI. www.islandgreenliving.org.
#  #  #
MEDIA CONTACT:   Lisa Herbst, 347-393-2948, lisagherbst@gmail.com
Link to photo: https://www.dropbox.com/s/a2580mjljcsf2qt/IslandGreenCompostingatClintonUSVIeventJune2019.jpeg?dl=0